Once: A Real (Musical) Love Story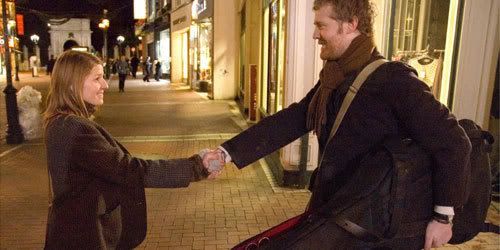 Once is playing at The Loft now

A couple of years ago, fellow KXCI deejay Don Jennings, a faithful KXCI listener David Anders, and I made our annual pilgrimage to the Austin City Limits Music Festival. I stumbled upon a stage where The Frames from Ireland were playing. I was immediately enthralled with what I was hearing. Glen Hansard's voice is full of yearning. He can sing a sweet little tune that could easily moisten your eyes. But his real strength is when he kicks his voice into overdrive and belts out a song if full on rock and roll mode. Many of his songs begin with a sweet quiet melodic section that crescendo's into a full on, heart wrenching vocal frenzy.

Fast forward two years to 2007. Glen Hansard is starring in a film named Once, made on a shoestring budget of $150,000. This is not his first film, by the way. He starred as guitar player Outspan Foster in the 1991 film The Commitments.

If you are a musician, or an aspiring musician, or enjoy hearing folk, country, or rock 'n roll music, then this is a must-see film. I believe that should include just about everyone reading this blog entry. Once is a simple tale that, most importantly, avoids cliché and presents a very realistic portrayal of music, life, and love. Singer-songwriters will recognize the process of how a song comes together from an emotion or an idea, into a full blown rock 'n roll number being recorded in a studio. And the music (this is a musical) is phenomenal.

I enjoyed seeing the relationship between Guy and Girl develop (we never do actually hear their names). This is a love story. But it is not your typical guy meets girl, fall in love, but there is a conflict, resolve the conflict, live happily ever after story. This story feels more real to me, and it is one I recommend you see and hear.