91.3FM KXCI, Bringing you Long Tail Music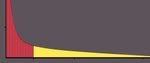 Working in the long tail section of the curve

According to Billboard.com, the #1 Hit this week is Beautiful Girls by Sean Kingston, followed in order by artists Fergie, Plain White T's, Timbaland, Rihanna, Kanye West, T Pain, Hurricane Chris, Fabulous, and Shop Boyz. I did a KXCI playlist search and found that of all the artists on this list, only Kanye West is getting significant air-time on KXCI. Why is that? The answer is that we are spinning music from the long tail of the curve.

Chris Anderson, author of The Long Tail: Why The Future of Business is Selling Less of More, would most likely place the top- 10 artists listed above in the short, high section of the curve depicted in red. This week, these artists are getting lots of air-time on the nation's radio stations and increased CD and online album sales. Almost all rely on incredibly expensive high-end studios and mass marketing using commercial television, internet, and radio. The vast majority of the artists and bands that we play on KXCI are working in the long tail of the curve.

"The Long Tail" artists and bands such as Lucinda Williams, Luca, and Mavis Staples are crafting original, high quality music, while remaining relatively independent. They rely on a network of experienced and highly-skilled recording studios such as Tucson's Wavelab Studio run by Craig Schumacher and independent labels such as Lost Highway, Funzalo, and Anti-. Moving further down the tail, some excellent albums are recorded using low-end equipment in living rooms, garages, and bedrooms.

For more discussion of "long tail" music you can get copy of Tape Op magazine and read Larry Crane's editorial or check out the archives of Wired online magazine.